Executive search consultants say the No. 1 ask from boards recruiting new directors is CEO or CFO experience. In many sectors, where relatively few women attain CFO and, especially, CEO positions, this can hamper companies seeking to cultivate a diverse roster of directors.
But then there is St. John's-based Fortis Inc. — a utility with $8.9 billion in revenue, $56 billion in assets and operations in five Canadian provinces, nine U.S. states and three countries in the Caribbean. Fortis has six women on its 12-member board. In addition to their diverse range of director experience, one is a former CEO, two are former CFOs, one is a former president, one is a former COO and the other is a former Chief Digital Officer.
How did they get there? The short answer is that Fortis didn't restrict its search to women from its own sector. It's a practice that many diverse boards have applied — yet, at first glance, one that seems more widely embraced in utilities and pipelines, which leads all sectors both in terms of the percentage representation of women directors on boards and in executive officer positions in the C-suite.
Along with Fortis, for example, boards at companies like Enbridge, Emera, TransAlta, Hydro One and Capital Power all count four or five women directors — former CEOs, presidents, CFOs, managing directors, group heads and the like.
However, even in this sector, there are examples of boards with only one woman director or none. The results achieved by other companies in this sector suggests those boards either just aren't trying hard enough or aren't making diversity a priority.
Latest diversity data
As noted, overall sector data compiled for Osler's 2021 Diversity Disclosure Practices report establishes utilities and pipelines as the industry to emulate. In terms of the percentage of women directors, it leads with a mid-year 2021 mark of 35%, compared to 22.1% for the entire group of 614 TSX-listed companies that disclosed. The average of 3.71 women directors per utilities and pipelines board is more than double the TSX-listed average of 1.83 (629 companies disclosed).
Breakdown of number and percentages of women directors in 2021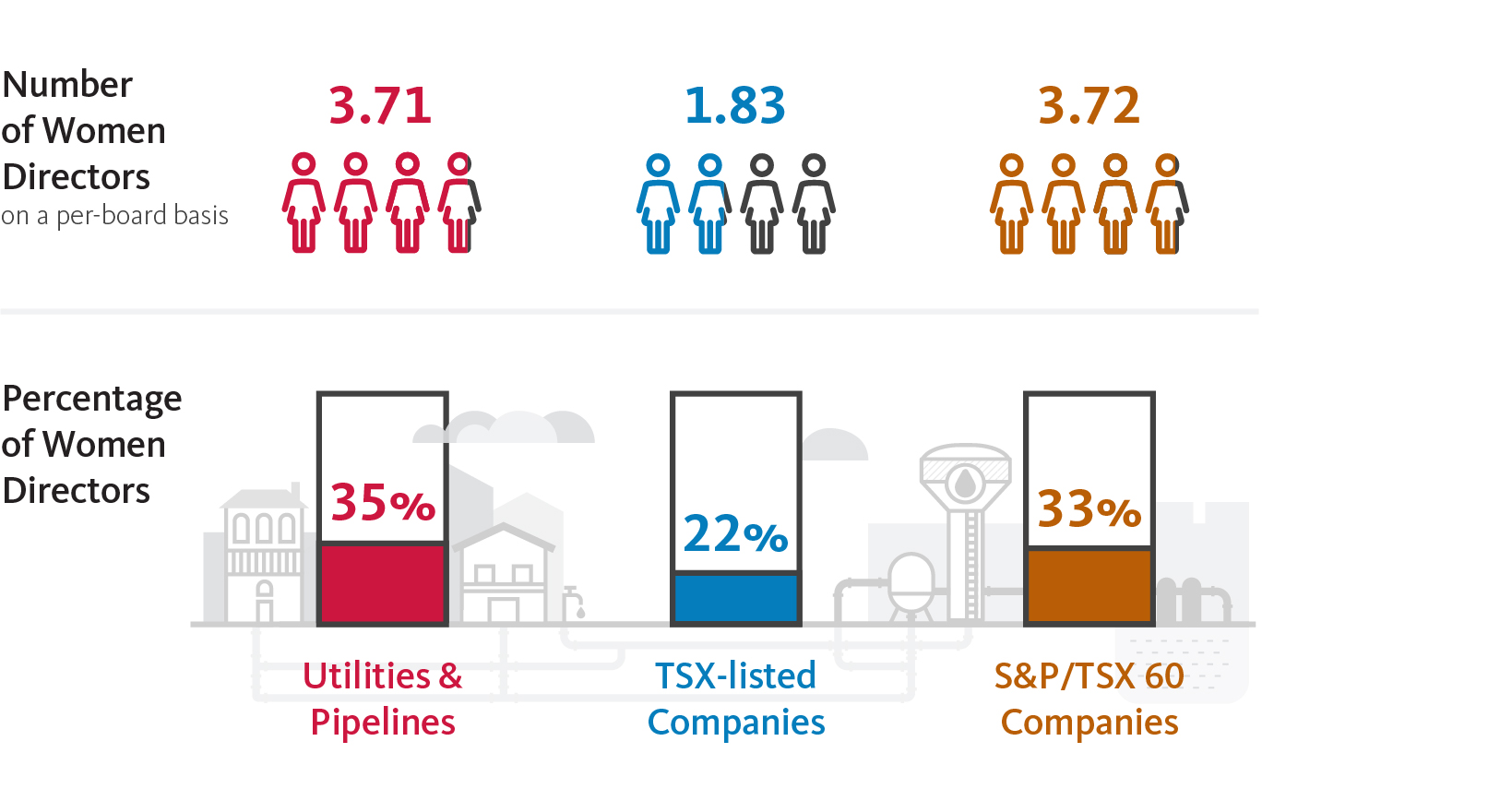 In terms of women executive officers at mid-year 2021, utilities and pipelines ranked first overall in the average number of female executive officers per company at 5.08, compared to 1.69 for all the TSX-listed firms in Osler's report (575 companies disclosed). On a percentage basis, women made up 30% of executive officers in the sector as of mid-year 2021, leading the pack in first place. The average for all the TSX-listed companies reporting in this category (565 companies) was 18.2%.
Breakdown of number and percentages of women executive officers in 2021
Trends since 2015
This sector's positive story is also reflected in gains for women since 2015, both on boards and in the C-suite. The percentage of women directors at mid-year 2021 was up by 75% (35% versus 20% in 2015). The average number of women directors per board increased at roughly the same rate (3.71 at mid-year 2021 versus 2.06 per board in 2015). The percentage of women executives in the utilities and pipelines sector also doubled, according to Osler's data (30% as of mid-year 2021 versus 15% in 2015) while the number of women executive officers per company increased at a more modest but still significant rate (5.08 versus 3.0).
Women executive officers in the utilities and pipelines sector
Similar data compiled by the Canadian Board Diversity Council (CBDC) [PDF], focusing exclusively on FP500 companies, shows a slower rate of change — at least among large utilities, which the CBDC measures separately rather than combined with pipelines. In that group, the percentage of women on boards grew from 27.1% in 2015 to 30.1% in 2018. The change was even more gradual for female executive officers (which the CBDC only started tabulating in 2016), going from 23.2% to 24.3% in 2018.
Best practices and sector leaders
The CBDC's annual report card points to a couple of sector-wide trends that might help explain the relatively high rates of diversity in utilities and pipelines. According to that report, the utilities sector ranks first in the percentage of boards (55.6%) that have diversity targets for the number of women directors and second for boards that have a written diversity policy (66.7%).
Osler's research has highlighted a pair of individual companies that have shown leadership in these specific areas.
Inter Pipeline Ltd.
In 2019, the corporation developed a diversity strategy with respect to the construction and operation of its Heartland Petrochemical Complex and also partnered with Women Building Futures. In 2019, Inter Pipeline invested $580,000 to support Women Building Futures in raising awareness and providing pre-apprenticeship training to women in Alberta's Heartland area.
Inter Pipeline describes various initiatives intended to support its diversity strategy and commitment to advancing women and other individuals of different backgrounds at all levels of the organization. These include a formal internal networking group, formal leadership programs and its support of and partnership with Women Building Futures, an organization offering training for women looking to enter the construction, maintenance, transportation and home building industries. In 2020, the company established a Council for Diversity & Inclusion and introduced a mandatory unconscious bias training program for all employees.
Emera Incorporated
To foster a more equal, diverse and inclusive environment, Emera annually analyzes pay equity, including (a) a wage gap analysis to track progress and identify challenges by affiliate, (b) the exercise of selective pay increases if wage disparity exists and (c) annual monitoring of the rates of women in leadership and senior leadership roles. As part of the company's governance practices, a minimum of 30% of the board must be comprised of women — a target the organization has surpassed for many years. Currently, four of the directors on the 12-member board are women, including the chair.
Global comparison
Periodically, international consulting firm EY publishes a Women in Power and Utilities index that tracks diversity at the top 200 global utilities by revenue. Based on that data, women are under-represented in this sector in all regions around the world. But there are some significant differences.
The percentage of non-executive women directors on power and utility boards in North America (25%) and Europe (26%) is high, but those figures dwarf percentages in Latin America and the Caribbean (7%); Africa and the Middle East (11%) and Asia-Pacific (13%).
North American utilities have the highest percentage of women in senior management (22%) according to EY, followed by those in Europe (15%), Latin America and the Caribbean (13%), Africa (9%) and Asia-Pacific (9%).
The uneven progress between regions, and at a remaining handful of companies in Canada, is a target for further improvement. But in this sector, unlike some others, leaders and role models are close at hand.
Click here to read the original report on Osler's website.